Runestone park
(Runstensparken)
An attraction on southern Adelsö.

Open: From 1 May to October

Hours: Every day 11:00-18:00

Address: Lindbyvägen 62
Bus 312: Brommaplan to Lindby brygga vägskäl

The Runestone park is an exhibition where ancient rune stones are depicted in natural size and with original paint. Here you can see what runestones looked like when they were new 1000 years ago.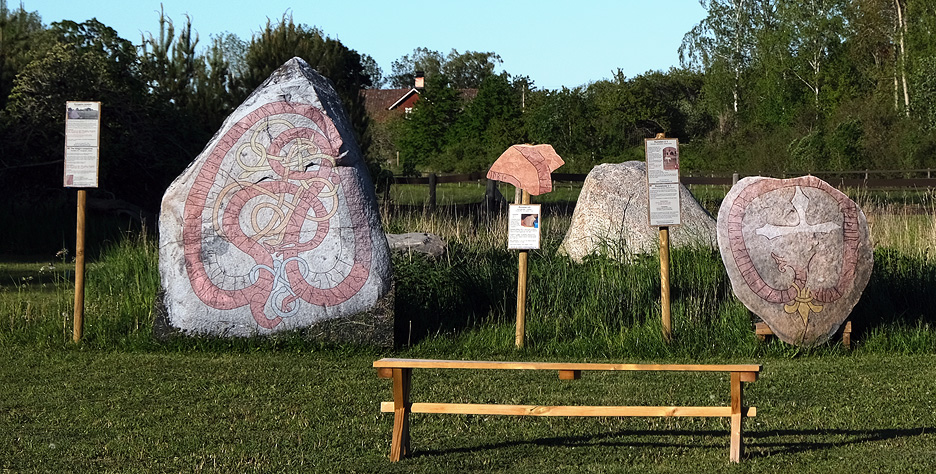 Runestones from Birka and Hovgården?
They are here, well depicted and have clear signs with information in both Swedish and English.


Well made and detailed
The Runestones in the park are so well made and detailed that they can be used for both research and studies. A visit to the Runestone Park is an experience that makes you look at the rune stones with brand new eyes.


In the Runestone park there are also:


My runestone workshop
If I (Kalle Runristare) are on site, feel free to come and look and ask. If you booked me as a guide in the park, a tour of my work is included.


A quiz walk
You compete against yourself or your friends. There are no awards, only personal honor and fame.


A kiosk
Limited supply and uneven opening hours. Coffee, soft drinks, ice cream and tourist information etc.
The guide booklet always available to buy at the kiosk, one for Birka and one for Hovgården.


Flea market
Recycling at its best.

Runstensparken has a voluntary entrance.
You only pay if you want.
Proposed voluntary admission is SEK 50

Runestone Park has its own website: